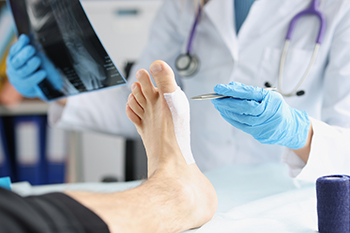 Minimally invasive foot surgery, known as the keyhole approach, is an advanced method for addressing foot pain caused by abnormal anatomy. This technique utilizes specialized instruments for each condition, assisted by intraoperative imaging like X-rays and fluoroscopy. These tools allow surgeons to perform the surgery through small incisions, aiming to minimize damage to muscles and surrounding structures, possibly leading to faster recovery and reduced pain. Notably, minimally invasive foot surgery can often eliminate the need for pins and screws, which results in cost savings for patients and reduces the burden on healthcare systems while providing aesthetically pleasing results. The advantages of this type of surgery over traditional open foot surgery include smaller scars, reduced infection risk, and minimal blood loss. It also offers aesthetic benefits and allows immediate weight bearing. However, like any surgery, minimally invasive foot surgery carries risks, including infection, nerve injury, and potential complications related to general anesthesia. If you are suffering from chronic foot pain, it is suggested that you make an appointment with a podiatrist who can evaluate your case and see if you are a good candidate for this type of surgery.
Foot surgery is sometimes necessary to treat a foot ailment. To learn more, contact David K. Morris, DPM of Florida. Our doctor will assist you with all of your foot and ankle needs.
When Is Surgery Necessary?
Foot and ankle surgery is generally reserved for cases in which less invasive, conservative procedures have failed to alleviate the problem. Some of the cases in which surgery may be necessary include:
Removing foot deformities like bunions and bone spurs
Severe arthritis that has caused bone issues
Cosmetic reconstruction
What Types of Surgery Are There?
The type of surgery you receive will depend on the nature of the problem you have. Some of the possible surgeries include:
Bunionectomy for painful bunions
Surgical fusion for realignment of bones
Neuropathy decompression surgery to treat nerve damage
Benefits of Surgery
Although surgery is usually a last resort, it can provide more complete pain relief compared to non-surgical methods and may allow you to finally resume full activity.
Surgical techniques have also become increasingly sophisticated. Techniques like endoscopic surgery allow for smaller incisions and faster recovery times.
If you have any questions please feel free to contact our office located in Plantation, FL . We offer the newest diagnostic and treatment technologies for all your foot and ankle needs.
Read more about Foot Surgery